Polarex 4" Equatorial (aka Unitron Model 152) July 20, 1963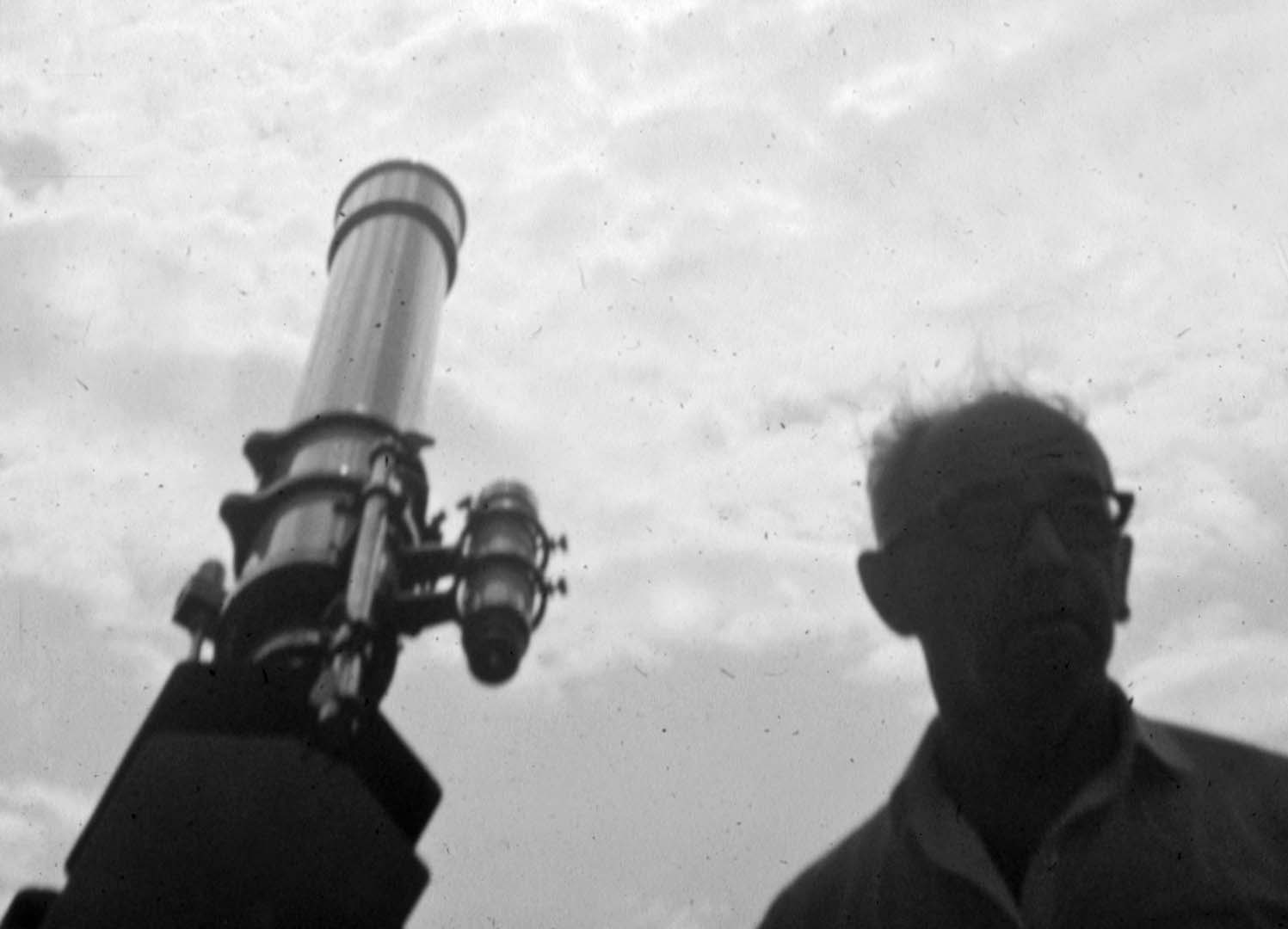 Taken near Grande Mere, Quebec, Canada in the path of totality of the solar eclipse of July 20, 1963. The man is my father.
I recall well this event. We drove a couple of hours to a site along the road within the path of totality. We came upon a large open field with many (scores?) of telescopes set up and figured this was the place. I set up my telescope and anxiously observed the sky. There were many cumulus clouds but, when totality came, we were fine . . . the sun was in the clear. How I recall the vivid, deep colour of the prominences that rapidly came into view at the moment of totality. I let my father have a look and then they were gone! Totality lasted less than a minute if I recall correctly. It was a memory for a lifetime!
These were the days before I had a decent camera and before I knew how to use one. This is a scan from a 620 transparency and the quality is terrible. Inexplicably and sadly, it was the only picture I ever took of my beloved first telescope which I owned from about 1960 to 1974. It was purchased from a shop on St. Catherine St. in Montreal just a little east of Atwater St. I recall the thrilling day when my mother drove me downtown to pick it up.
While, in some ways I wish I had kept it, and am aware of how these instruments have acquired a mystique over the years, in retrospect the Unitron was more impressive to look AT than look THROUGH. Four inches is four inches and it is not enough. Certainly this telescope pales in comparison to the Celestron C11 I aquired several years after letting the Unitron go.
I miss the days, the days of excitement, the adventures under the night sky I had with this telescope. That said, I really do not miss the Unitron at all. It takes more than nostalgia, and more than 4 inches of aperture, to carry on the adventure. I DO very much wish I had taken more and better pictures to remember it by though. I did love to admire it...and to show it off to friends, neighbours and just to passersby.
---
Use "Back" button or Return to Home