The Witch Head Nebula in Eridanus (near Orion)
Taken from a bitterly cold, northern winter sky, here she is at the foot of The Hunter, basking in the chilling, blue light of mighty Rigel.
IC2118 Eridanus RA 05h02m dec S07°54'
Data
Taking Camera SBIG STL-11000XM
Nova Scotia, Winter, 2014, mag 6.4 - Sensor @-20C
Imaging OTA
Takahashi FSQ106EDXIII with QE Reducer
Equivalent focal length and ratio
385mm @f/3.6
Mount
AstroPhysics 1600
Guiding
PHD with MMOAG and SBIG STi
9hr5min total integration time
L 20X5', R 24X5', G 25X5', B 24X5' Filters Astrodon Series I Gen 2
All unbinned
Calibration and Stacking
Darks, Bias and Flat Frames - PinInsight
Processed
PixInsight,Adobe Photoshop CS4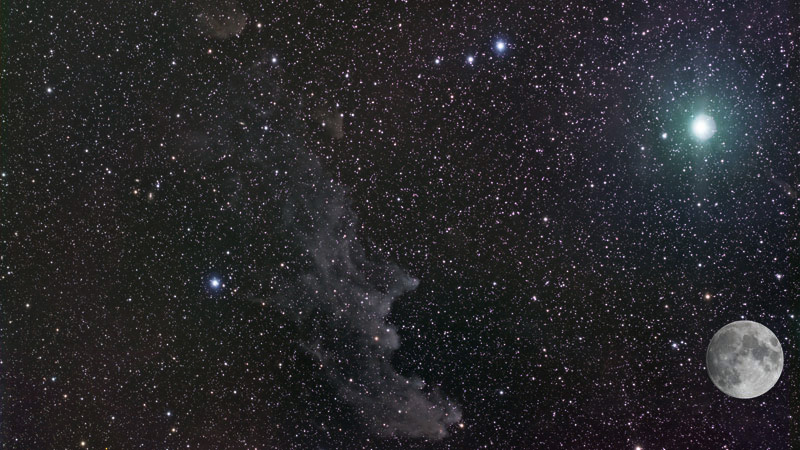 Although faint, she's actually a very large lady on the night sky!
Here she is, with the moon at proper scale superimposed with her just for comparison.
Incidentally, at a distance of approximately one thousand light years, The Witch is about twenty-four MILLION times further away than the moon!
Use "Back" button or Return to Home