Greenland 1991
---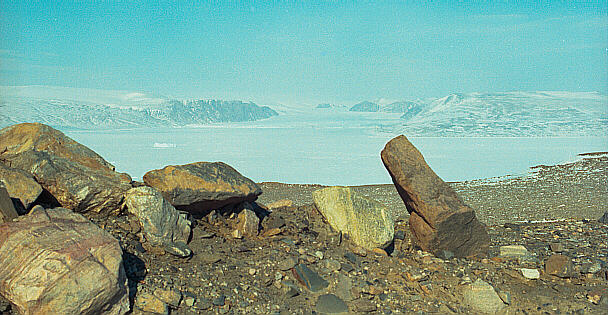 Glacier Vista near Thule Air Force Base
The silence was deafening!
---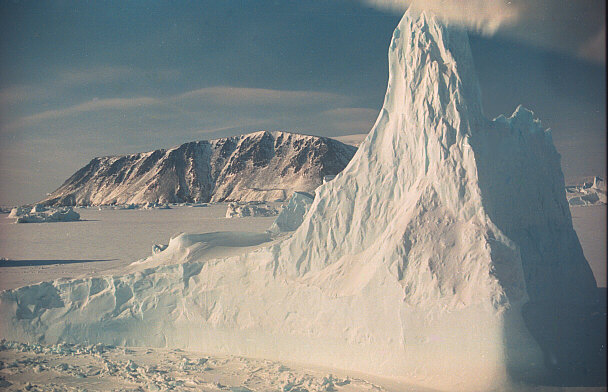 Iceberg Frozen in De Dodes Fjord
Taken from a VERY low-flying Cessna 172!
My employment took me to Greenland in 1991 to provide meteorological support to aviation crews engaged in a Cold War exercise. During my stay I engaged the services of a civilian pilot wishing to increase his log hours. He did the flying . . . I, and a colleague, paid only the fuel bill. It was a great arrangement. We certainly couldn't have afforded to hire a plane to see this country otherwise and we had seen nothing flying in on a multi-engined military transport aircraft.
He was a bit of a "hot dog" pilot. I have never flown in a jet fighter (I wish!) but I must have "pulled" nearly two "g's" in this Cessna 172! I was grinning like a school kid!
Excuse the boyish sentiment. I dislike "yahoo" machines like ATVs, seadoos and snowmobiles as a rule, but I enjoyed the "roller-coaster-in-the-sky" ride over the Greenland wilderness.
While I hoped to see a polar bear, and the pilot often did, I sort of hoped we wouldn't either as I am sure he would have "buzzed" it and I don't think that is proper. In any event we saw no polar bears . . . just glaciers, icebergs and mountains in this beautiful, unspoiled land. Hey! Who gets to see Greenland? And I got paid to do it!
Use "Back" button or Return to Home